This whimsical figure painting features a girl cliffside gazing at a golden bridge. The framed original painting is done in an abstract impressionism style with the figure done in cubism. Miller's signature metallic acrylic paints and pigments make this lady a one of a kind.
Media Used: Framed Mixed Media on Heavy Watercolor Paper
Artwork Size: 24 x 30
Bridge Across Time Listing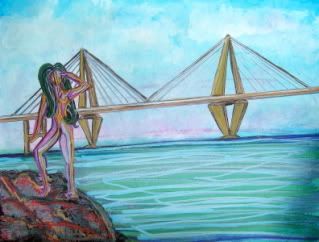 Inspiration: Inspiration Series Collection - This series is inspired by Patrick, a young talented artist who was taken from this world at a tender age. His family asked Pam to create a series based on his sketches. In the beginning of her inspiration series, she combined her love of science with elements from his sketches. However, Patrick favored very traditional cubism with geometric twists and simple surreal landscapes and Pam quickly began to pull away making the series more her own. She uses two approaches to the paintings in this series. One is impressionistic landscapes with her own brand of figures in a cubism style. The second is using her cubism figures in a very futuristic surreal landscape with swirls and strange moons. All of her paintings are ready to hang. She uses quality framing and mats for this series. If you wish to purchase the piece without the framing, please contact us for a price quote.
Certificate of Authenticity, Artist Bio, & Current Gallery List Price Included!